Photon: the Fast & Light Video Processor
Features
Rapidly rewrap Sony A7S MP4 and FS700 MTS files into MOV containers without transcoding for use with Resolve 11 with audio
Fast transcoding of Samsung NX1 4K H.265 into 4K or 1080p ProRes 444 and 422 10-bit, XAVC 422 10-bit, or H.264 420 8-bit: Over 21fps 4K and 46fps 1080p transcoding speed is possible on a 2010 12-Core MacPro
Fast transcoding of Panasonic GH4 4K H.264 into 4K or 1080p ProRes 444 and 422 10-bit, XAVC 422 10-bit, or H.264 420 8-bit
H.264 IPB and ALL-I output support
Multiple ProRes options including LT, Normal, HQ, 444 and adjustable speed/quality using the FFMPEG QScale setting
Experimental 422 10-bit H.264 (XAVC)
Experimental H.265 output useful in testing the new H.265 HEVC format
Lanczos scaler for very high-quality 4K 8-bit 420 to 1080p '10-bit luma' 444 transcodes. NX1 4K H.265 420 looks amazing transcoded to 422 or 444 10-bit 1080p
Real-time CPU and memory load optimization to maximize multicore performance
Real-time performance stats including ETA (time to finish), processing Rate in MB/s, and processing FPS: helping you to optimize time and quality settings
Simple and easy to use UI with at-a-glance settings
Taskbar progress display is available in Windows 7 or later: handy for monitoring progress while processing video in the background
Runs on Windows XP or later
Photon can process Sony A7S Mp4 files into ProRes LT files at 192 FPS on a 12-Core 2010 MacPro from a 4TB hard drive to an SSD: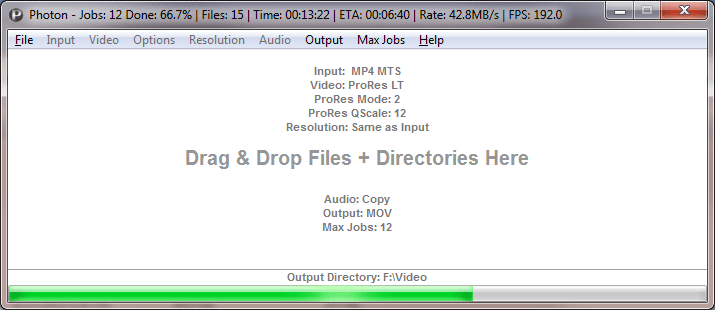 Supported Input formats: MP4, MOV, MTS, MXF. Supported output formats: Mp4, MOV, MXF.
A recent version of FFMPEG is required such as: http://ffmpeg.zeranoe.com/builds/
Read more about Photon in the Photon Manual.